Warning:
Defense Advanced Research Projects Agency (DARPA)
11-24-02
---
Note: The IAO website has now disappeared. But below is a link to a page explaining about the "Terrorist Information Awareness" program, including why they changed to that name instead of the original name: "Total Information Awareness" program. (1-3-04)
NOTE: The Information Awareness Office has discontinued its occult logo. In their FAQ they explain why. (3-29-03)
See the link at the bottom to go to their site.
---
The logo to the right is from the relatively new organization, called the Information Awareness Office (IAO). The IAO is a part of the Defense Advanced Research Projects Agency (DARPA) which invented the internet. The IAO is headed by former Navy Admiral John Poindexter who was President Reagan's National Security Advisor and Oliver North's boss. Poindexter was convicted by a jury for several felonies associated with the Iran-Contra affair. The people convicted of that affair were later pardoned by George Bush. The IAO logo includes symbols of the ancient mystery religions of Babylon and Egypt, including the occult "All Seeing Eye" of the hideous god, Osiris.
---
IAO Mission - Quotes from William Safire Column - Our Only Hope - Links
---
The following is IAO's description of its purpose:
"IAO Mission: The DARPA Information Awareness Office (IAO) will imagine, develop, apply, integrate, demonstrate and transition information technologies, components and prototype, closed-loop, information systems that will counter asymmetric threats by achieving total information awareness useful for preemption; national security warning; and national security decision making.
"IAO Vision: The most serious asymmetric threat facing the United States is terrorism, a threat characterized by collections of people loosely organized in shadowy networks that are difficult to identify and define. IAO plans to develop technology that will allow understanding of the intent of these networks, their plans, and potentially define opportunities for disrupting or eliminating the threats. To effectively and efficiently carry this out, we must promote sharing, collaborating and reasoning to convert nebulous data to knowledge and actionable options. IAO will accomplish this by pursuing the development of technologies, components, and applications to produce a proto-type system...The key to fighting terrorism is information. Elements of the solution include gathering a much broader array of data than we do currently, discovering information from elements of the data, creating models of hypotheses, and analyzing these models in a collaborative environment to determine the most probable current or future scenario. DARPA has sponsored research in some of these technology areas, but additional research and development is warranted to accelerate, integrate, broaden, and automate current approaches." [Emphasis mine]
---
Quotes from William Safire Column
Consider the following quotes from a New York Times column (November 14, 2002) by William Safire, titled, "You Are a Suspect":
"If the Homeland Security Act is not amended before passage, here is what will happen to you:

Every purchase you make with a credit card, every magazine subscription you buy and medical prescription you fill, every Web site you visit and e-mail you send or receive, every academic grade you receive, every bank deposit you make, every trip you book and every event you attend — all these transactions and communications will go into what the Defense Department describes as "a virtual, centralized grand database."

To this computerized dossier on your private life from commercial sources, add every piece of information that government has about you — passport application, driver's license and bridge toll records, judicial and divorce records, complaints from nosy neighbors to the F.B.I., your lifetime paper trail plus the latest hidden camera surveillance — and you have the supersnoop's dream: a " Total Information Awareness" about every U.S. citizen.

This is not some far-out Orwellian scenario. It is what will happen to your personal freedom in the next few weeks if John Poindexter gets the unprecedented power he seeks.

Remember Poindexter? Brilliant man, first in his class at the Naval Academy, later earned a doctorate in physics, rose to national security adviser under President Ronald Reagan. He had this brilliant idea of secretly selling missiles to Iran to pay ransom for hostages, and with the illicit proceeds to illegally support contras in Nicaragua.

A jury convicted Poindexter in 1990 on five felony counts of misleading Congress and making false statements, but an appeals court overturned the verdict because Congress had given him immunity for his testimony. He famously asserted, "The buck stops here," arguing that the White House staff, and not the president, was responsible for fateful decisions that might prove embarrassing.

This ring-knocking master of deceit is back again with a plan even more scandalous than Iran-contra. He heads the "Information Awareness Office" in the otherwise excellent Defense Advanced Research Projects Agency, which spawned the Internet and stealth aircraft technology. Poindexter is now realizing his 20-year dream: getting the "data-mining" power to snoop on every public and private act of every American."
William Safire is a former speech writer for Richard Nixon.
---
Followers of Jesus should not have anything to hide. We should not be so concerned about the government gathering information about us. Also, we are not called to oppose the governments of the world, politically, and certainly not by force. The only reason I take any time to warn Christians about these things is because so many are idolatrously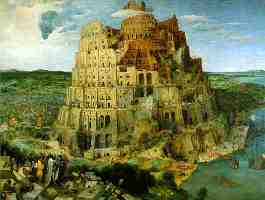 attached to the political rulers and their nation's heritage because of deception and myths within Evangelicalism.
What is exciting is that world history is unfolding just as the Bible said it would. The world system is developing toward a one world government, economic, and religious system. The buying and selling of everyone will be controlled. Followers of Jesus will suffer at the hands of this system. The whole world is being prepared for a counterfeit Christ.
We need to recognize this world system for what it is and do all we can to rescue people from this world system.
Jesus is our only hope!
For the preaching of the cross is to them that perish foolishness; but unto us which are saved it is the power of God. For it is written, I will destroy the wisdom of the wise, and will bring to nothing the understanding of the prudent. Where is the wise? where is the scribe? where is the disputer of this world? hath not God made foolish the wisdom of this world? For after that in the wisdom of God the world by wisdom knew not God, it pleased God by the foolishness of preaching to save them that believe.
---