President Ford's Memorial
at the National Cathedral
1/2/2007
Posted 1/2/2007 Updated 1/15/07

A believer in the Lord Jesus might have many mixed feelings and observations and analyses as he watched the ceremonies and listened to the speeches and pondered the context and history and gathered rulers and personalities as the United States honored the 38th President, Gerald R. Ford, July 14, 1913 - December 26, 2006.

Freemasonry, Warren Commission, Nixon pardon

Santa Fe International Corporation, Kuwait, Iraq

CIA, Yale, Order of the Skull & Bones, Kennedy Assassination, Watergate, Amway, Episcopal Church Denomination, Helsinki Accords

At the service today, the name of Jesus Christ was prominent (which surprised me) in the proceedings led by Episcopal clergy and included military participants and celebrity eulogizers.

John (Jack) Ford read Isaiah 40:28-31. Susan Ford Bales read James 1:19-25. Father Certain, (The Reverend Dr. Robert G. Certain, Rector, St. Margaret's Episcopal Church & School, Palm Desert, California) read John 14:1-6a. [but not 14:6b!]

Some attendees:

Family - Wife, Betty Ford, children, Michael, John, Steven, Susan; grannd children and great-grand children;

Former Presidents and wives - President George W. Bush and Laura Bush, President Bill Clinton and Senator Hillary Clinton, President George H. W. Bush and Barbara Bush, Nancy Reagan, President Jimmy Carter and Rosalynn Carter

Tributes given by:
* George H. W. Bush, Forty-First President
* Dr. Henry A. Kissinger
* Thomas J. Brokaw
* George W. Bush, Forty-Third President

Honorary Pall Bearers: Martin Allen, James A. Baker, III, Robert Barrett, James Cannon, Kenneth Chenault, Richard B. Cheney, William Coleman, Richard DeVos, Robert Dole, Richard Ford, Alan Greenspan, Robert Hartmann, Carla Hills, Henry Kissinger, Jack Marsh, Paul O'Neill Donald H. Rumsfeld, Brent Scowcroft, Sanford Weill, Frank Zarb

Ceremonies at Palm Desert, California, U.S. Capitol Rotunda, National Cathedral, Presidential Library in Grand Rapids, Michigan.

Other attendees: Dick Cheney, Donald Rumsfeld

There were no Evangelical Celebrities to be found which stood out to me compared to many events over the last fifteen years.

President Ford's Career:
University of Michigan, B.A., 1935Yale University School of Law, LL.B., 1941

United States Navy, 1942 - 1946

United States House of Representatives, 1949 - 1973

Vice President of the United States, 1973 - 1974

President of the United States, 1974 - 1977

Quotes of President Ford about Freemasonry:

Remarks at an Unveiling Ceremony at the George Washington Masonic National Memorial, Alexandria, Virginia.
February 17th, 1975

http://www.presidency.ucsb.edu/ws/index.php?pid=5485

"When I took my obligation as a master mason--incidentally, with my three younger brothers--I recalled the value my own father attached to that order. But I had no idea that I would ever be added to the company of the Father of our Country and 12 other members of the order who also served as Presidents of the United States."

"Masonic principles--internal, not external--and our order's vision of duty to country and acceptance of God as a Supreme Being and guiding light have sustained me during my years of Government service. Today especially, the guidelines by which I strive to become an upright man in Masonry give me great personal strength."

"Masonic precepts can help America retain our inspiring aspirations while adapting to a new age. It is apparent to me that the Supreme Architect has set out the duties each"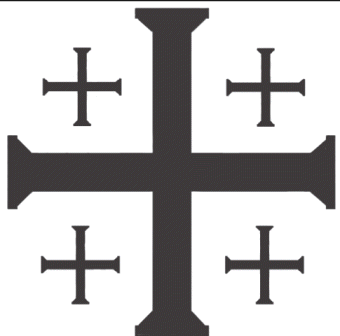 Symbol on the Memorial Service Program
"Also known as the Jerusalem cross. This cross was the symbol of the Crusader Kingdom of Jerusalem, which existed for almost two hundred years after the First Crusade. The four smaller crosses are said to symbolize either the four books of the Gospel or the four directions in which the Word of Christ spread from Jerusalem. Alternately, all five crosses can symbolize the five wounds of Christ during the Passion. This symbol is also used in the flag of Georgia."
From Wikipedia: http://en.wikipedia.org/wiki/Cross
---
Lucifer, the Garden of Eden, & the Tower of Babel
Four Ways Christians Are Deceived
Return to: