News & Commentary
See below for what's new on this site, commentary on current events, and other news items. Updated: 5/09
New on this site - Comment on Current Events - Other News Items
---
---
---
The "16 percent" and the Fuhrer
3/30/10
How many refused to worship the Fuhrer in 1930s Germany? Might it have been as many as 16%? I have no idea. But if it was as many as 16%, how was it that the other 84% were so easily deceived?
There is a growing trend of oppression in Evangelical churches today. Clergymen with "vision" are being stroked and encouraged by popular authors and parachurch organizations to take control and lead their churches in growing into flagship megachurches that are "purpose driven".
Those who advocate the simplicity of New Testament fellowship where brothers and sisters submit to one another as true co-workers in Christ are accused of impeding the clergyman's ambition; of being obstructionists. They are accused of being old-fashioned, legalistic, and living in the past.
There are many testimonies of believers in Jesus questioning these "purpose driven" ambitions and then finding themselves as outcasts. How do these grand ambitions fit in with trends of global Tower of Babel visions?
Lucifer, the Garden of Eden, & the Tower of Babel - Four Ways Christians Are Deceived - Coercive Church Leaders
eSERMONS.com & Leonard Sweet - Leonard Sweet - Purpose Driven
The Emergent Church Movement & Contemplative Spirituality - The Evangelical Subculture - Men in their 20s & 30s
Counterfeit Christs: Is your Pastor a One-Man Show? - "I have a VISION!" "Achieve your DREAMS" ???
What does it take for a cult follower to realize he's worshipping the cult leader?
Cult Isolation Techniques - What if you found yourself in a cult?
Who Should Lead in the Body of Christ? - Commentary
---
"
North Koreans Use Cellphones to Bare Secrets
"

By CHOE SANG-HUN
"Citizens feeding information about life in their country to the outside world is something of a revolution for a brutally efficient gulag state that has forcibly cloistered its people for decades." MSNBC.com 3/29/10

<![if !supportLineBreakNewLine]>Sounds like some Evangelical Churches...
<![endif]>
---
Churchianity is a form of Legalism
---

---
On the Lighthouse Trails site 3/26/10
---
Youth Groups & Sunday Schools
Should families, who would rather not turn their children over to youth groups and Sunday Schools, be legalistic about these convictions and crusade about their convictions in a divisive and rebellious way?
Should families, who would rather not turn their children over to youth groups and Sunday Schools, be persecuted by the clergyman and attacked from the pulpit and accused of being legalistic and publicly ridiculed because they do not exhibit the proper zeal for the clergyman's programs?
---
As Reported by Lighthouse Trails 3/14/10
---
Double Standards for Clergymen?
Is it ok for a clergyman to criticize people but if others raise questions it's called judgmental?
---
From a Brother in West Virginia
"The Joy of the Church"
2/24/10 (posted 3/4/10)
Dear Jim,
I don't quite know how I stumbled onto your website, but I did while doing some research on the web looking for Christian resources.
Having read Frank Viola's Pagan Christianity (after reading The Pilgrim Church by E.H. Broadbent), I was both intrigued and upset by some of Viola's claims.
While Frank raised some important issues about worldly traditions that evangelicals had adopted, I felt he was denying the role of Elders in serving the Lord in the Body of believers. Having also read "Biblical Eldership" by Alexander Strauch, I think Elders who literally serve the body are both scriptural and important, especially when they have a strong reliance on God's Word.
Our church is doing a Wednesday evening book review and comparing Viola's book with Scripture.
One of our Elders brought a copy of Frank Viola's latest book "Re-imagining Church" to the "bible study"/ book review, and I found myself feeling upset even to the point of anger over the terms "re-imagining" and "DNA" in reference to the Church.
After reading quite a bit on your web site, I am very much relieved to find I am not alone in my concerns over these terms.
I rely a good deal on my (admittedly subjective) discernment when reading a book, listening to preaching or teaching, or watching a video.
I will frequently experience what I call a "red flag" (for gross false teaching) or a "yellow flag" (for teaching that doesn't seem right somehow) in my conscience.
Sometimes I am wrong and the teaching is OK, however usually (about 90% of the time) there truly is something to be concerned about.
This is confirmed or refuted when I compare that teaching with Scripture!
That is our authority for our faith and practices!
Yeah, I know, that's what they all say.
I was a member of a denominational church for 11 years. After this my wife and I began attending a "non-denominational" church that was part of the "Acts 29 network".
All seemed great for the first couple of years. The minister would say things like "We need to keep the main thing the main thing, and Jesus is the main thing!"
Well... the leadership brought in "Purpose Driven", and soon we were "driven" out.
We began to look for a Church modeled on Scripture and couldn't find one that was lead by Elders and Preaching the Gospel.
We found a couple of good Gospel preaching pastors, but they had complete control of their Churches (no Elders).
So about 5 of us began to meet in each others homes on Sunday morning for prayer, worship and fellowship.
We were amazed in how much we were sensing The Lord's presence and leading in this and began to discuss the possibility that we were on the right path.
Then we began asking "dumb" questions like, "should we be confessional, or liturgical, or have an order of worship? What should we be doing?"
One fellow named Marty (without reading or knowing anything about the "house church movement") asked, "using the Bible as a template, what would Church look like?"
That began our searching Scripture for what it had to say about the Ekklesia (Church). WOW! We were surprised by how much Scripture had to say about House Church: From a direct mention; (Acts 2:2, 2:46, 5:42, 12:12,16:40, 20:20, Rom. 16:5, 1Cor. 16:19, Col. 4:15, and Phil. 1:2) As well as from a functional perspective; (Acts 14:23, 1Cor. 12:7, 12:28, 14:26-30, Eph. 5:18-21, Col. 3:16, 1Pet. 4:7-11, Rom. 12:3-10, 15:14, Heb. 3:13, 10:24-25).
We also began to research the subject in earnest, reading books and websites on the idea of House Church.
You can imagine the flood of info we found.
We were kinda protected by Marty's original statement of "using the Bible as a template" and rejecting all unbiblical ideas.
Our little house church, of 18 or so believers has been meeting just over 5 years as of this e-mail.
We are not "networking" with anybody, and we do not take in any money.
We ask believers to seek what the Lord would have them to give, and where, and how much, but PLEASE do not give any money to us, find someone poor and help them or fund a missionary or two somewhere.
We have 3 men who have been recognized as Elders for their love (and understanding) of Scripture, love for the "flock", and their ability to fit the "models" for Elders in Timothy and Titus.
I personally have been walking with Jesus for about 34 years and can't believe how long I simply accepted the Institutional Church's traditions as the way things should be for Church, while using scripture for how I conducted my personal life.
Most believers who experience the difference of Biblical Church say they never want to go back to a more worldly model.
I'm sorry this letter is so long, but I am simply overjoyed in all the things I have read on your website so far.
I haven't read it all, but rest assured I have been a HUGE longtime fan of Dave Hunt and promise to "like a Berean" check it all against Scripture.
I find myself almost continually recommending folks to check out Dave's "Berean Call" website and Andy & Berit Kjos's "lighthouse trails" website as well.
PS I know of a missionary organization that I have great confidence in called Gospel For Asia, or GFA for short. Please, check them out.
Blessings,
Dale Noland
Believers House Church
Articles by Dale: Another Jesus? - What's Wrong with Contemplative?
---
by Bob DeWaay as quoted on the Lighthouse Trails Blog 3/3/2010
"Missionary or Missional? For hundreds, if not thousands, of years Christians have used the term "missionary" to describe one who goes out to preach the gospel to an unsaved world headed toward judgment—repentance for the forgiveness of sin found in the death and resurrection of Christ. The mission of the missionary was to proclaim the absolute truth of the gospel—a fact proven by Jesus' resurrection from the dead. The gospel is "good news" because it provides condemned sinners with a certain escape from God's wrath. "
Read the rest of the article
---
Sinning by Questioning?
The Power of Mark Driscoll over his Congregation
2/15/10 updated 2/16/10
In the New York Times article, "Who Would Jesus Smack Down?", By Molly Worthen, January 6, 2009, the clergyman at Mars Hill Church in Seattle is portrayed as a totalitarian dictator.
Nowhere is the connection

between Driscoll's hypermasculinity and his Calvinist theology clearer than in his refusal to tolerate opposition at Mars Hill. The Reformed tradition's resistance to compromise and emphasis on the purity of the worshipping community has always contained the seeds of authoritarianism: John Calvin had heretics burned at the stake and made a man who casually criticized him at a dinner party march through the streets of Geneva, kneeling at every intersection to beg forgiveness. Mars Hill is not 16th-century Geneva, but Driscoll has little patience for dissent. In 2007, two elders protested a plan to reorganize the church that, according to critics, consolidated power in the hands of Driscoll and his closest aides. Driscoll told the congregation that he asked advice on how to handle stubborn subordinates from a "mixed martial artist and Ultimate Fighter, good guy" who attends Mars Hill. "His answer was brilliant," Driscoll reported. "He said, 'I break their nose.' " When one of the renegade elders refused to repent, the church leadership ordered members to shun him. One member complained on an online message board and instantly found his membership privileges suspended. "They are sinning through questioning," Driscoll preached. John Calvin couldn't have said it better himself.
Read the entire NY Times article
Molly Worthen has Never Read Calvin
[The editor of Procinwarn.com does not necessarily endorse any of the above authors.]
Four Ways Christians Are Deceived
Questions for the Acts 29 Network
---
Making Disciples
is not the same as Cultivating Clergymen
---
---
Coercive Churches & Anything Goes Churches
We should be concerned about coercive, oppressive, and abusive churches.
We should be concerned about trends in churches of "anything goes" unbiblical teachings and unity at the expense of sound doctrine.
It has become evident that every church fellowship has aspects of BOTH of these to varying degrees.
How shall we follow the pattern of Christ?
---
Julia Roberts, Oprah Winfrey, Elizabeth Gilbert, Anne Lammott
and Charles Stanley's "In Touch Magazine"
"A note of interest to illustrate the [shift] that organized Christianity is going through: Anne Lamott, who was just featured in Charles Stanley's In Touch magazine, endorsed Eat, Pray, Love, the book, and has gone on speaking engagements with Elizabeth Gilbert, expressing her resonance with Gilbert's spirituality, calling the book "rich in spiritual wisdom.""
See the Lighthouse Trails article
---
The most judgmental people I have known
are the ones who are always accusing other people
of being judgmental.
---
Friends of Chuck & Judy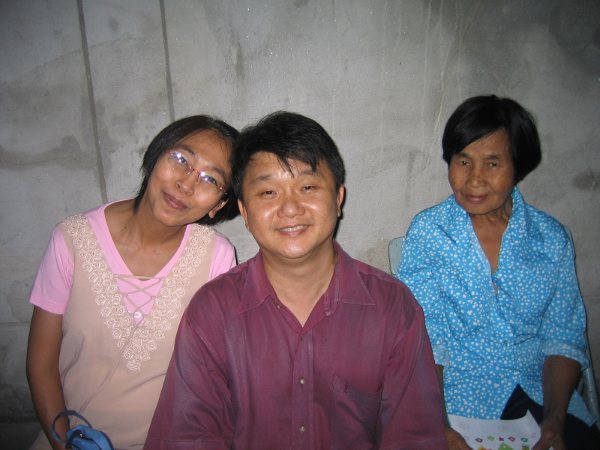 See Chuck and Judy's photos from last January-April
See some of their reports from their last trip
---
From the Berean Call - December 29, 2009
THE ABSENCE OF SIN

"Nevertheless we, according to his promise, look for new heavens and a new earth, wherein dwelleth righteousness." (2 Peter 3:13)

For thousands of years the followers of God have battled against "principalities, against powers, against the rulers of the darkness of this world" (Ephesians 6:12) led by Lucifer, that old serpent, the arch rebel and self-appointed accuser of the saints of God. Although assured of the ultimate victory through our Lord Jesus Christ, Christians have often suffered cruelly at the hands of Lucifer and his followers.

As Christians, the aching longing in our hearts for peace is really none other than the Holy Spirit, Himself, grieving at sin, and our own new, holy nature "groaning" to be free in its expression of the divine nature. It is the nature of the child of God to "hunger and thirst after righteousness" (Matthew 5:6). It is the normal thing for one "raised" up and already seated "in heavenly places in Christ Jesus" (Ephesians 2:6) to long for the shackles of the "body of this death" (Romans 7:24) to be loosened. Under ordinary circumstances, our spiritual being--"the new man, which after God is created in righteousness and true holiness" (Ephesians 4:24)--knows that we are "strangers and pilgrims on the earth" (Hebrews 11:13). Such knowledge openly declares that we "desire a better country, that is, an heavenly: wherefore God is not ashamed to be called their God: for he hath prepared for them a city" (v. 16).

If we have lost sight of the place that Jesus has gone to prepare for us, we become both forlorn and despoiled. But if we treasure the great truth that we will spend eternity with our Lord in His "new heavens and a new earth, wherein dwelleth righteousness," we are comforted and encouraged, recognizing that both sin and all its effects will be absent.



--Henry M Morris III
---
Anyone know of a Biblical House Church near Marlborough, MA?
Please email me
---
Formerly CRISTA's Kings West
Kitsap Sun 12/25/09
King's West becoming Crosspoint Academy - How Biblical are they?
---
John Broman & Family in Hollywood
(Thanks, Paul & Rose!)

---
From Lighthouse Trails 12/4/09
---
Ten Years Ago
---
Intentionally Offending People

from the "Pulpit" vs. Holy Spirit Conviction
One is an attempt to accomplish in the flesh what only the Spirit of God can do.
One is motivated by vindictiveness and political manipulation.
The other is motivated by love and results from letting the Word speak for itself.
---
Break Forth Canada?
Is this a Biblical gathering?
Look who the speakers and participants are:
Anne Graham Lotz, Michael W Smith, Frank Peretti, Lee Strobel, Robin Mark, William Paul Young, Newsboys, Joel Rosenberg, Brenton Brown, Francis Chan, Lincoln Brewster, Leonard Sweet, Matt Maher, Sean McDowell, Shannon Ethridge, Fred Stoeker, Grant & Kathy Mullen, Greg Paul, David Fitch, Sarah Reeves, Keith & Kristyn Getty, Mary Kassian, Duffy Robbins, Tim Kimmel, Neil Anderson, Brad Jersak
Which of these speakers are Biblical and which are not Biblical teachers?
Of those who are Biblical, pray for them, pray for discernment, pray that they would not yoke with and endorse those leading Christians astray.
Pray for the people who are not Biblical teachers that they would rethink their approach.
"Leonard Sweet: Quantum Spirituality
and a Christ Consciousness"
The Emergent Church Movement & Contemplative Spirituality
---
About Dressing Modestly
"Unlike animals, human nakedness has a moral and spiritual dimension [Rev.3:18]. From Eden, man's covering was insufficient apart from God's provision and standard. Clothing is to cover shame, not to allure or entice, even unconsciously to do so."
Steve Phillips
---
A newly re-edited book
By Brother Steve Phillips
A returned missionary from West Africa
CHRIST IS ALL
For to me, to live is Christ and to die is gain
Phil.1:21
"Christianity is no moral reformation. It is a new creation. Existing raw materials have not been
employed. Nothing in the natural realm is contributory. Our God does not utilize what is at hand to fashion
something new. He did not do so in the beginning. He does not do so now.
"What is seen was not made out of things which are visible -Heb.11:3. All was brought into being by His
Word. He spoke and it came to pass. He commanded and it stood forth. Substance and reality result from
omnipotence.
"And creative power is as surely required to bring forth spiritual life. Darkness is upon the face of the
deep of our hearts [Gen.1:2]. Sin has rendered us more formless and void than the first ancient ocean.
But the Spirit of God is moving over this vast waste as He did then. Order can yet arise out of chaos.
Light may still diffuse darkness. And the God of heaven is still in the business of making men in His own image.
"But it is His work to do so.
"Residual in dust is not to be found the image of heaven. We are of earth. It was into this that the breath
of God exhaled. Then life animated the clay and the image of God was seen. "The Lord God formed man from the dust of the ground" -Gen.2:7. This body, fashioned as it was by God, was not yet in His image.
It was merely the shell; a tangible dwelling. It was an earthly tent to house the Divine. It remained a
lifeless form until imbued with life from above. And the clay had no hand in it. That dust, named Adam, could not arise from where he lay. He had neither power nor will to do so. He was nothing but dust apart from the breath of God.
"Only the Lord of heaven can create something out of nothing; And we are not that creator. Life comes
from above. The image of God in man was a creative act in Eden. It is ever as much so in the church. "For we are His workmanship, created in Christ Jesus" -Eph.2:10. "If anyone is in Christ, there is a new creation; the old things passed away; behold, all things are become new" -2 Cor.5:17.
"The old was discarded. It had no value. It will not be discovered as annexed into the new. An amalgam
of human contrivance and Divine creation will never be forged. Only in the fantasy of an alchemist can the flesh bring forth spirit. They are mutually exclusive realms. "That which is born of the flesh is flesh, and that which is born of the Spirit is spirit" -Jn.3:6."
---
Agape Love
God is love.
1 John 4:8
The fruit of the Spirit is love...
Galatians 5:22
We love Him, because He first loved us.
1 John 4:6
How wonderful is our God who is Agape?
How beautiful is the fruit of Agape in our lives?
How amazing that Jesus first Agape-loved us?
"This true love is ever intent upon bestowing its best graces upon its object and persists through circuitous paths to influence and guide back to the narrow way. Jacob is such a monument to God's love that never leaves or forsakes until His and our good is attained; a wondrous smiting in kindness is this insistence that His love be known and embraced." Steve Phillips, returned missionary from West Africa. 11/3/09

---
To Trust that, "God Said"
by Fred Harris 11/3/09
Hi again.
I will try to share something I read the other week.....
Was reading the story in Luke chapter 8 about Jesus calming the seas. Got to the point of, "where is your faith?" Asked why did he say that? Read it some more... more... more.... wow, that is different. So I asked some people when the story got to that point, why did he say to them, where is your faith?
Answers:
They were afraid
They didn't believe God could save them.
They didn't believe that it was truly God on the boat with them...
And stuff like that.
So I said what about the part of the story where he told them let US go to the other side. Not let me go, or let some of us go, but let US go to the other side. So that when you came and woke me up to say we are perishing, did you so easily forget that I said... LET US GO TO THE OTHER SIDE. Where is your faith?
To know. To have faith in, to trust that God said.... what a wonderful thing. They woke you up to say that they perish when you spoke!!!!! LET US GO TO THE OTHER SIDE. Where is your faith?
Realizing that God has spoken. And how many times have we awakened him to say that our situation is different from what he SAID. we wake him up screaming i'm alone and he says, where is your faith... did not before the storm of loneliness i say that i would never leave you nor forsake you, where is your faith? and since this storm was sent to teach you how to know that i said what i said.... storm (loneliness) be still!!!! They don't want to learn you.
They received the benefits of the trip but they missed the journey. They could talk and testify of the goodness and power of God but missed the point. The point was not for you to have a testimony or a praise but that you would come to rest and trust in the WORD of God. The word that he proclaimed is more exalted than his own name.
We want deliverance but not the teaching and points of the journey. It is like your children having a major geography test coming up and you take them across country to all the major sites. they get back to school telling everyone about your goodness to take them on this trip. They tell of the time spent and how much fun they had. But in the end they fail the test because they enjoyed the trip but missed the journey.
That God from the time spent but that wasn't the point of the trip. That God for being able to get out, but that wasn't the point of the journey. They received the benefits of the trip and missed the journey and when it came time to display that which you should have learned, you can't.
Again we want God to help us out of every situation. but now that you are about to be eaten by lions. I'm not delivering you today. No tricks. The lions are going to eat you. The sad thing is you never learned to stand on what I said.
Hope that is understandable
My wife and I were talking about some things the other day and I mentioned to her that the "church" or those that assume they are the church want tricks and not truth.
Take care Jim
I do believe that you understand that the above is not to suggest that God would not give another chance to learn that which our faith falters on. But we need to come up and do better. It is sort of like the death bed confession. Would never say it isn't true or that it doesn't work.... but the fact remains, we just don't know if we will get that chance so, be ready now. Like the one verse says... in the day you hear my voice, harden not your heart.....
Fred Harris
---
---
The Berean Call about Tozer
November 2009 Newsletter
I appreciate TBC expanding on this issue.
Question: You have promoted books by A.W. Tozer, yet Tozer constantly quoted from Catholic mystics, and some have said that he even practiced "Lectio Divina." In view of your warnings regarding the Contemplative Movement, how could you offer his books, knowing of his practices?



Response: Tozer did not practice Lectio Divina, a method that many mystics and occultists have used to supposedly experience God. The exercise involves reading a Bible verse or phrase, often repeating it many times like a mantra, for the purpose of stimulating insights that transcend what might be gained from the normal reading and understanding of the Scriptures. Rather than understanding a passage based on the objective meaning of the words, the grammar of the verses, and the context, the words become devices for receiving personal, subjective revelation from God. Anyone who is familiar with the writings of Tozer knows that such a technique is completely foreign to what he taught throughout his lifetime. Nevertheless, that hasn't stopped some people from referring to him in order to support their promotion of mystical methods and teachings. John Armstrong, for example (who is general editor of Roman Catholicism: Evangelical Protestants Analyze What Unites and Divides Us, Moody Press, 1994), has stated that Tozer "listened to God and practiced lectio divina in his reading habits." The "Emerging Thought" blog, among other Emergent writers, has commented, "I am going to go through the book by Brother Lawrence called Practice of the Presence of God: The Best Rule of Holy Life. I already had someone on the leadership team comment (jokingly) about me teaching RCC stuff. Yet, I see that John Wesley and A. W. Tozer both recommended him."

To quote someone does not necessarily include recommending him. Yet, we would take issue with Tozer regarding some of the people he quotes. In chapter 3 of The Pursuit of God, "Removing the Veil," Tozer quotes Chinese sage, Lao-tze: "That is the first step, and as...Lao-tze has said, 'The journey of a thousand miles begins with a first step.'" Quoting this one point, which is hardly profound, is not "endorsing" Lao-Tze. One might wonder, however, where Tozer stood when one considers the Roman Catholics (Augustine, Nicholas of Cusa, Thomas á Kempis, Francis of Assisi, von Hugel, Bernard of Clairvaux, the poet William Blake, and hymn writer Frederick Faber, a convert to Catholicism) that he has quoted or referred to in his books. That's rather puzzling, since the gospel that Tozer preached and wrote about so well couldn't be more contrary to the gospel and dogmas of Catholicism, beliefs strictly held by those mentioned and most of whom were canonized as saints by the Church of Rome. TBC does not condone Tozer when he quotes those with whom we have serious theological disagreement (and with whom, we are sure, he would also disagree). Moreover, instances of such quotes are so few in his many, many volumes that it's clear they were in no way significant to his teaching.

Tozer himself recognized the confusion he generated by quoting those noted for their Roman Catholic mysticism. He wrote in his own defense, "Some of my friends good-humoredly--and some a little bit severely-have called me a 'mystic.' Well I'd like to say this about any mysticism I may suppose to have. If an archangel from heaven were to come, and were to start...telling me, teaching me, and giving me instruction, I'd ask him for the text. I'd say, 'Where's it say that in the Bible? I want to know.' And I would insist that it was according to the scriptures, because I do not believe in any extra-scriptural teachings, nor any anti-scriptural teachings, or any sub-scriptural teachings. I think we ought to put the emphasis where God puts it, and continue to put it there, and to expound the scriptures, and stay by the scriptures. I wouldn't--no matter if I saw a light above the light of the sun, I'd keep my mouth shut about it 'til I'd checked with Daniel and Revelation and the rest of the scriptures to see if it had any basis in truth....I don't believe in anything that is unscriptural or that is anti-scripture" (A.W. Tozer, "What Difference Does the Holy Spirit Make?")

Even so, some object that quoting Tozer to prove he wasn't a mystic ignored his advice to "get still to wait on God" with the "Bible outspread." To say that Tozer practiced lectio divina because of this statement is to be driven more by surmise than substance. The full paragraph reads: "It is important that we get still to wait on God. And it is best that we get alone, preferably with our Bible outspread before us. Then if we will, we may draw near to God and begin to hear Him speak to us in our hearts. I think for the average person the progression will be something like this: First a sound as of a Presence walking in the garden. Then a voice, more intelligible, but still far from clear. Then the happy moment when the Spirit begins to illuminate the Scriptures, and that which had been only a sound, or at best a voice, now becomes an intelligible word, warm and intimate and clear as the word of a dear friend. Then will come life and light, and best of all, ability to see and rest in and embrace Jesus Christ as Saviour and Lord and All."

There is a vast difference between Tozer's teaching and lectio divina. The Lord tells us to "be still" at times. To "be still" is not to empty our minds, as in lectio divina. Reading Scripture without distraction, we trust the Lord to bring illumination, or "understanding." Though Tozer speaks of a "sound as of a Presence walking in the garden," he means that the Holy Spirit begins to bring understanding (1 Cor 2:11). "Then a voice," denotes better understanding of a formerly opaque Scripture. Tozer speaks of "an intelligible word" consistently throughout his writing. His focus remains "the Word." "This book of the law shall not depart out of thy mouth; but thou shalt meditate therein day and night, that thou mayest observe to do according to all that is written therein" (Jos 1:8).

The Scriptures warn us to fully discern the truth of a matter. Discernment is more than suspicion. We are cautioned in the scriptures against "evil surmising" (1 Tm 6:4), which today might be called "evil suspicion." To establish Tozer as a "Catholic mystic" cannot be done objectively, without exaggeration, and with only selective use of evidence.
November 2009 Newsletter
---
A newly re-edited book
By Brother Steve Phillips
A returned missionary from West Africa
"Counterfeiting is a serious crime attached with severe punishments for those offending. Not only are private citizens defrauded and deceived thereby, but it is an assault against the integrity of the federal government issuing the genuine.
"An imitation, deceptively similar in many particulars, is circulated in its stead. Yet once detected, it is exposed for the valueless fraud that it is. Citizens are then alerted to the distinguishing characteristics of the look-alike imposture. Only then will the worthlessness of this pseudo-currency be realized. When identified, false bank notes are not merely discarded as useless, but are reported to the authorities that the criminals responsible might be apprehended.
"When seized, their printed works are confiscated while they await judgment by trial. It is no small thing this counterfeiting, this taking advantage of others by passing off as authentic what is actually a deluding lie.
The fraudsters may profit from this illicit trade, that is, until their scam is unmasked in all its treachery. Then, the citizenry indignantly despise both the forgers and their works. The people return to lawful utilization of the genuine while the thieving imitators are left to reap what they have sown at the bar of justice.
"It is hoped that this volume will serve to encourage a return to the lawful and legitimate in Christianity while identifying counterfeits which have been so widely distributed to the demise and impoverishment of the unsuspecting."
---
What does Jesus think about Sorcery and Magick?
Shouldn't we have the same attitude about Sorcery and Magick that Jesus has?
---
Isolation & Camels
Is homeschooling an example
of how Christians unbiblically isolate themselves from society?
Or... is this allegation an example of straining at a gnat and swallowing a camel?

This allegation is part of the apologetic of the Emergent Church to advocate more "engagement" with society.
Also, consider the following account about the response of State Approved Religious Leaders in Germany to home schooling:
"Last year the police in Bavaria held several homeschooling fathers in coercive detention. They belonged to Christian groups who claim the right of parents to educate their own children, but they are not backed by the official (state funded) churches. Reinhard Hempelmann, a spokesman of the Evangelical Church in Berlin, maintains that the homeschoolers "isolate themselves from the world and the traditional churches." Alfred Buss, the president of the Evangelical Church in Westphalia, has said that "freedom of religion does not justify opposition against the obligation to attend school." The Brussels Journal
While there is validity to disciples of Jesus living and serving among people in the world for the sake of the Gospel of Jesus Christ, that does not justify Christian parents turning their children over to the state for five hours a day to be raised by the public schools.
So while there is validity to "not isolating" ourselves as Christians, this is a gnat compared to the camel of asking the world to raise our children for us.
---
The True Nature of the World System
Chicken Little on the Road to Damascus
---
New World Order Niceness
What's that?
NWO Niceness is part of the world religion. It seeks to unite the world in a Tower of Babel Heaven on Earth, without the Gospel of Jesus Christ. It is a do-gooder religion. It is a smiling, peace and harmony religion. It is a Positive Thinking, Positive Visualization Religion.
Within the professing Church, NWO Niceness takes the form of Unity at the expense of the Truth. Positive sweetness that attacks anyone wanting to speak the truth in love.
The message of the Cross is foolishness to those who are perishing. We must speak up when the influences of false christs and false gospels come into the Church in various forms.
We must be motivated by love, but we must speak the truth.
And the truth is not popular in the world or in the worldly church.
New World Order Niceness is increasingly popular both in the world and the professing Church.
---
"Still grieving over the Lakers' loss in the NBA finals, Philip Mackenzie receives a suspicious note, apparently from God, asking him to come to an abandoned sports bar in the Oregon wilderness to talk it over."
Sometimes satire says a lot...
Posted here 9/29/09
---
9/27/09
Developing Leaders – Contemplation – Stephen Covey
The Christian school in Bremerton, Washington, USA, operated by Seattle-based CRISTA Ministries, that was formerly called King's West is changing its name to "Crosspoint Academy" according to an article in the The Sun newspaper, September 23rd, by Marietta Nelson. The following is a quote from the article:
"Crosspoint will remain a Christian school with an emphasis on biblical teaching and weekly chapel. Teachers are still expected to be Christians who demonstrate their faith to students. The tagline for the school's new name is "developing the next generation of Christian leaders," [Bryan] Peterson said." [Peterson is Head of the School.]
---
Procinwarn.com Commentary and Questions:
What is meant by, "developing the next generation of Christian leaders"? Is this simply the New Testament call to be disciples and to make disciples, or is this in the context of reconstructing society and trying to win the "culture wars"?
New curriculum for the school will be built around the following, according to The Sun: "critical thinking, collaboration, creativity, contemplation and cultural competency".
What do they intend by the "contemplation" element?
"The school's 25 teachers also received four days of training over the summer from a book by Stephen Covey called "The Leader In Me." Students this year are working in small groups called "dynamic leadership teams" that focus on Covey's "seven habits" and will be working on community service projects. Students will also be introduced this year to local political and business leaders." [The Sun article]
Why are teachers and students at a Christian school being trained by Mormon and Human Potential Guru, Stephen Covey!
---
The Biblical View of Education
Crusades for "Morality", Political Action, Social Activism
The Emergent Church Movement & Contemplative Spirituality
The Lie of the Serpent in the Garden of Eden - Foundation of Mormon Doctrine
Four Ways Christians Are Deceived
Lucifer, the Garden of Eden, & the Tower of Babel
---
Glenn Beck is Mormon
Crusades for "Morality", Political Action, Social Activism
Are You Addicted to Talk Radio? (or Screaming Head TV?)
---
Congressman Joe Wilson
"You Lie"
Is a Freemason and a Shriner
9/15/09
Freemasons and Other Occult Brotherhoods
---
The Latest Fad among Christians
What is the latest and greatest big thing sweeping through the Evangelical subculture?
If it truly is an instrument of "revival" is it drawing people to be devoted to the Lord Jesus or is it promoting devotion to itself?
And which "Jesus" is it promoting?
Is it our Lord Jesus Christ who has revealed Himself in Genesis through Revelation?
Or is it a "Jesus" conjured up in the imagination of a man?
If it is the Jesus of the Bible then people should be increasingly devoted to Genesis through Revelation instead of seeing the Bible as increasingly irrelevant.
Can any new fad actually improve on the truth found in Genesis through Revelation?
---
What's happening to Dr. & Mrs. Hovind?
I have heard of this ministry but I do not know enough to be able to endorse it. However, their legal troubles have caught my attention and it seems to me that Christians should be aware of what is happening to these people. (Thanks to Brother Quinn for informing me of this. 9/6/09)
---
Please!
Do not Kill Yourself!
Do not Kill your Baby!
Do not Kill your Marriage!
How might the Lord Jesus Christ give you hope in the midst of despair?
---
Salvation & Assurance
Believe on the Lord Jesus Christ and you will be saved
So they said, "Believe on the Lord Jesus Christ, and you will be saved, you and your household." Acts 16:31
Jesus says: Believe in Him whom He has sent
Jesus answered and said to them, "This is the work of God, that you believe in Him whom He has sent." John 6:29-30
Jesus says: Whoever believes in Him should not perish, but have eternal life
"For God so loved the world, that He gave His only begotten Son, that whoever believes in Him should not perish, but have eternal life. John 3:16
Jesus says: He who believes in Me shall live even if he dies
Jesus said to her, "I am the resurrection and the life; he who believes in Me shall live even if he dies, and everyone who lives and believes in Me shall never die. Do you believe this? John 11:25-26
That you may know you have eternal life
These things I have written to you who believe in the name of the Son of God, in order that you may know that you have eternal life. 1 John 5:13
Jesus says: I will not cast out
Jesus said to them, "I am the bread of life; he who comes to Me shall not hunger, and he who believes in Me shall never thirst. "But I said to you, that you have seen Me, and yet do not believe. All that the Father gives Me shall come to Me, and the one who comes to Me I will certainly not cast out. John 6:35-38
Jesus says: No one is able to snatch them out of my Father's hand
"My sheep hear My voice, and I know them, and they follow Me; and I give eternal life to them, and they shall never perish; and no one shall snatch them out of My hand. "My Father, who has given them to Me, is greater than all; and no one is able to snatch them out of the Father's hand. 30 "I and the Father are one." John 10:27-30
Examine yourselves to see if you are in the Faith
Test yourselves to see if you are in the faith; examine yourselves! Or do you not recognize this about yourselves, that Jesus Christ is in you — unless indeed you fail the test? 2 Corinthians 13:5
Saved by grace through faith in order to perform good works
For by grace you have been saved through faith; and that not of yourselves, it is the gift of God; not as a result of works, that no one should boast. For we are His workmanship, created in Christ Jesus for good works, which God prepared beforehand, that we should walk in them. Ephesians 2:8-10
Can a faith that does not produce good works save you?
What does it profit, my brethren, if someone says he has faith but does not have works? Can faith save him? If a brother or sister is naked and destitute of daily food, and one of you says to them, "Depart in peace, be warmed and filled," but you do not give them the things which are needed for the body, what does it profit? Thus also faith by itself, if it does not have works, is dead. James 2:14-17
Jesus says: You will bear fruit
"I am the vine, you are the branches; he who abides in Me, and I in him, he bears much fruit; for apart from Me you can do nothing. John 15:4-6
Nothing can separate us from the love of God
What then shall we say to these things? If God is for us, who is against us? He who did not spare His own Son, but delivered Him up for us all, how will He not also with Him freely give us all things? Who will bring a charge against God's elect? God is the one who justifies; who is the one who condemns? Christ Jesus is He who died, yes, rather who was raised, who is at the right hand of God, who also intercedes for us. Who shall separate us from the love of Christ? Shall tribulation, or distress, or persecution, or famine, or nakedness, or peril, or sword? Just as it is written, "For Thy sake we are being put to death all day long; We were considered as sheep to be slaughtered." But in all these things we overwhelmingly conquer through Him who loved us. For I am convinced that neither death, nor life, nor angels, nor principalities, nor things present, nor things to come, nor powers, nor height, nor depth, nor any other created thing, shall be able to separate us from the love of God, which is in Christ Jesus our Lord. Romans 8:31-39
---
Young Christian Women Dressing Like J. Lo and Beyonce
---
---
---
Facebook:
Another "Market Place of Ideas"
like the Areopagus in Athens
"Fan" means a fanatic. That's Facebook's label. I do not endorse the label anymore than I endorse "icon" or "wizard" or "avatar". This is part of being in the world and not of the world. Lord Jesus please give us wisdom and understanding and Biblical convictions.
I recommend being zealous for the the things of Christ.
---
---
Push is on for Global Religion to Worship the Earth




Campaign has been building since the late 80s (3/11/07)


On the other hand, the push started in the Garden of Eden. The attempt to merge Evangelical Christians into this Earth Religion is intensifying.


---
New on this site
-
Comment on Current Events
-
Other News Items