Counterfeit Christianity
Welcome to a site devoted to the Gospel of Jesus Christ. It's my desire that the Lord would use these pages to proclaim His Gospel, to invite people to put their trust in Him, to build His Ekklesia, and to warn of false gospels, false messiahs, and counterfeit religious systems.
If someone hasn't understood Biblical Truth in such a way that they separate themselves from the false christs and false gospels of this world,
then they haven't understood!
Articles
Four Ways Christians Are Being Deceived
Will a photo of the Anti-Christ be on the cover of Time Magazine before or after he is revealed?
---
Professing Evangelical Christians are effectively becoming Unitarian-Universalists.
How?
One major avenue is via the
---
Morals and ethics that derive from the Bible are a necessary fruit and evidence of the Gospel of Jesus Christ.
But morals and ethics are not the Gospel. They are not Christianity.
Jesus is Christianity. People being reconciled to God through Jesus Christ is what the Gospel is about: ceasing to be enemies of God and becoming children of God.
A false gospel of morals and ethics turns Christianity into Freemasonry or Catholicism or Islam.
---
Which Evangelical leaders were most responsible for...
"Biblical Counseling" vs. Biblical Christianity
Are You Addicted to Talk Radio?
Mystical Myths Creeping into the Church
Letter to the Church at Thyatira & Roman Catholicism
Evangelicals Prostituting Themselves with Roman Catholicism
Mary Kay - Direct Marketing MLM - A Different Gospel
Promise Keepers - A Vineyard Offshoot
Link between Contemplative & New Thought Movements: Brother Lawrence
Frank Viola, George Barna, and the Emerging Church
Who would name an organization after himself?
To Promote and Exalt the name of Billy Graham is to Promote Global Apostasy
What do Jesse Jackson, Gloria Steinem, Robert Schuller, and James Dobson all have in common?
Movie about Martyred Christian Missionaries stars a homosexual
Frank Viola Promoting Contemplative Spirituality
Disney and The Chronicles of Narnia
Harry Potter & The Chronicles of Narnia
"Salad Bowl Sunday" Ecumenical Event Corrupts the Gospel
Rick Warren, Tony Compolo, & Brian McLaren
The "World Christian" Movement
Are There Any Believers in the Catholic Church?
A Cinematic Crucifix? Mel Gibson's Catholic Movie
Holidays:
Jesus' Resurrection or Easter?

Christ-Mass vs. Holy-Day
and the "True Meaning of Christmas"

The Spirit of "Christ-Mass" is the Spirit of Anti-Christ
George Otis Jr: Mystical Warfare in Kitsap County

Chicken Little on the Road to Damascus
The Pledge of Allegiance

The False Gospel of Self-Esteem

"Building Your Mate's Self-Esteem"

Questions for Christians about Psychology

Re-written Hymns

M. Scott Peck

Billy Graham

Crusades for "Morality", Political Action, Social Activism

KINGDOM NOW OR NEW WORLD ORDER?
Aspire Magazine: Body, Mind, & Spirit
Unbiblical Phrases That Christians Use
"As a Man Thinketh" ???

"Spiritual Disciplines"

"What goes around, comes around" ???

"Good Luck!" ???

"I have a VISION!" "Achieve your DREAMS" ???

Positive Thinking

"Positive" and "Negative" ???
---
Thank you to Chuck Hazen for passing this on to us. From the Desiring God blog 4/20/09

April 19, 2009 | By: John Piper
Category: Commentary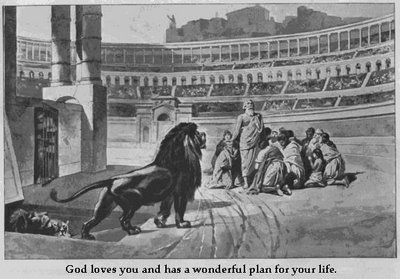 If anyone would come after me, let him deny himself and take up his cross and follow me. For whoever would save his life will lose it, but whoever loses his life for my sake and the gospel's will save it. For what does it profit a man to gain the whole world and forfeit his soul?
---
Wake up!
You're in the lap of Satan.
And we know that we are of God, and the whole world lieth in wickedness. And we know that the Son of God is come, and hath given us an understanding, that we may know him that is true, and we are in him that is true, even in his Son Jesus Christ. This is the true God, and eternal life. Little children, keep yourselves from idols. Amen.
1 John 5:19-21
Lucifer, the Garden of Eden, & the Tower of Babel
Four Ways Christians Are Deceived
World history is a matter of two elements: Mankind rebelling against God, and, God reaching out in mercy and reconciliation to all who would humble themselves.
I exhort followers of Jesus to not be taken in by the World's presentation of history but to see history as God has outlined for us in his Word.
---
Introduction

Since I became a Christian, I've fellowshipped in a variety of institutional church organizations: Assembly of God, Calvary Chapels, and others. But throughout that time, the blessing of God in New Testament Fellowship always came through relationships and meetings in homes and the intertwining of lives... in spite of the institutional "churchianity" structures. For sincere, true New Testament Fellowship, I am grateful to God.
Return to: